<META NAME="ROBOTS" content="NOINDEX,NOFOLLOW"> 

ADD the NO INDEX, NO FOLLOW TAG

Be sure to use the No Index, No Follow tag on sites that are under construction and pages you don't want the search engines to index. Once the site or page is complete be sure to remove the tag.


Copyright 2006 - Homestead Connection - All Rights Reserved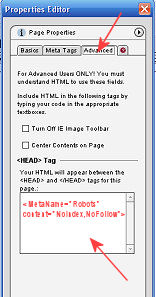 Copy and Paste the following code in the Properties Editor - Advanced - <Head> tag box as shown to the left.

It is important to keep the Search Engines from indexing a page if it is unfinished. Search Engines index what they find and the site will be placed accordingly. You want them to find all the essential information your page/site will offer rather than just pieces and parts. Visitors are turned off by Under Construction sites and pages. "Check Back Again" doesn't work as there are 100's of sites out there that are complete that offer the same information, service or merchandise.

Use the internal search feature to the right or the
site map
for easy access to information.