Click on the          next to the Basics tab. This will open a Help page that covers the elements of the Text menu with the exception of the Link button. We address using the
Link
button on the next page.
To activate the Text menu of the PE, click on an existing text box or create a new one by clicking on the T in the Element Bar.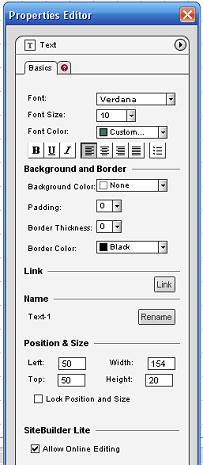 Clicking on the T in the toolbar creates a text box as shown below. You can also add a text box by clicking on the Content icon.



When selecting a font choose the ones that are resident on most computers. The browser will substitute your font for the nearest match on the viewer's computer which can result in your page not viewing as you intended.

Save big and bold for headers and sub-headers and use a size 10 or 11 font for blocks of text. Italics can be difficult to read so use sparingly.

Be sure to add padding if you place a border element around a block of text so that the words don't run up against the border.This block of text has a padding of 5.

This block has no padding and looks unprofessional with no space between the border and the text.

Bulleted items can cause mis-placement of other elements on the page due to the way the software spaces for bullets.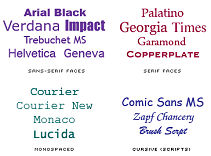 Using the Background and Border element function can also cause misalignment due to the padding.

Alignment issues don't always show in edit mode. Always check your site in multiple browsers to be sure you don't have overlapping elements. Pages can and often do render differently among the browsers.  Fire Fox - Internet Explorer - Safari - Chrome


Use the internal search feature to the right or the
site map
for easy access to information.

Toolbar 2 ::

Toolbar 3 - 4 ::

Toolbar 5 ::

Toolbar 6 ::









This site is not owned by Homestead Technologies™ and is not intended

as a replacement for Intuit Homestead Help Sections or Technical Support.


Copyright © 2006 - Homestead Connection - All Rights Reserved

Add padding between your text and a border: