Click "In current browser" if your link is to a page or file in YOUR site.

Click "In another browser" if you are linking to a page on another site. If you link to a file use this option so that the site doesn't close when the viewer closes the file.

PROPERTIES EDITOR ~ Text ~ Linking Text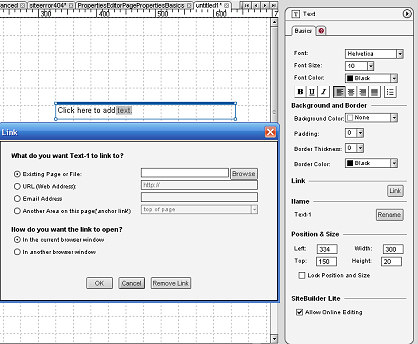 Select the box that contains the word or words or image you want to add a link to.

Check Existing Page or File and then Browse. The drop down will list all pages and files associated with your site.  Click on your choice, click ok and the text will then be linked.

NOTE: It is recommended that you use the 'Link to a URL' option #4 to avoid ending up with duplicate indexing. Be consistent with whichever method you use.

To link to an Existing Page or File in your site:

Link to a URL - a page in another site:

Check URL Enter the full address of a page within your site that you want to link to in lieu of using the drop down.

OR

Enter the address of the site you want to link to. If you are using copy & paste be sure you don't duplicate the http://

Link to an  Email Address:

Check Email Address and enter the email address you want to link to:

johndoe@thepub.com

Link to another area on the page

Creating an Anchor Link or "To Top of Page" Link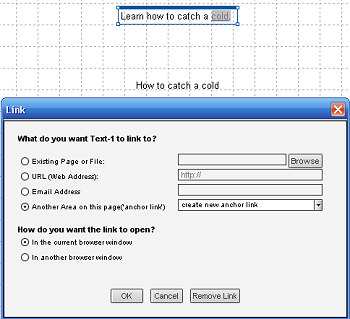 You want to create a link to text  further down your page.

Highlight the part you want to link and click on the link button.

Click on "Another Area on this Page" and from the drop down menu choose "create a new anchor link"

Click OK and an Anchor Link as shown below will appear on the page. It will not show on your published page.


Click on the Anchor Link and the Properties Editor will give you the option to "Rename" it.

Drag the Anchor Link down the page to where you want your visitor to land. Check the Preview mode to adjust where the Anchor Link needs to be.

Create a text box that reads 'Top' or 'To Top' of Page.  Highlight the text - click the Link button in the Properties Editor - Choose the  Another Area on this page option - Choose "top of page" from the drop down.   When visitors click it they will be returned to the top of your page rather than having to scroll.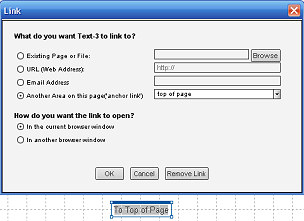 Use the internal search feature to the right or the
site map
for easy access to information.

Toolbar 2 ::

Toolbar 3 - 4 ::

Toolbar 5 ::

Toolbar 6 ::









This site is not owned by Homestead Technologies™ and is not intended

as a replacement for Intuit Homestead Help Sections or Technical Support.


Copyright © 2006 - Homestead Connection - All Rights Reserved




If linking words you need to highlight them once you select the text box.