TOOLBARS ~ Toolbar 6 ~ Element Selector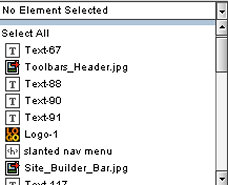 Shows the currently selected element - No Element Selected will show if nothing on the page is currently active (selected)

The drop down menu shows all the elements on the page. You can select a single element to find its location on the page or click Select All to highlight all elements on your page. This is a good way to check for hidden or unused elements like text boxes that were created but not used.

When you create an element in Site Builder you have the option of renaming it. So rather than it showing up in the Element Toolbar as Text-90 for example it would be listed by a name you give it. This can make it easier to find a particular object or element on the page.

Copyright 2006 - Homestead Connection - All Rights Reserved


Use the internal search feature to the right or the
site map
for easy access to information.




Toolbar 2 ::

Toolbar 3 - 4 ::

Toolbar 5 ::

Toolbar 6 ::