File: Click on File and you get the dropdown as shown below.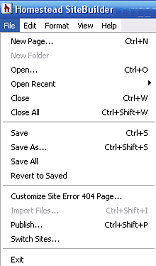 Clicking on New Page yields the following menu where you can choose the format for your new page.

If you are using a template offered by Homestead, clicking About, Contact, Index, Services or Testimonials will open a new page that duplicates the original. Selecting Blank opens a new page with just the Header/Logo from the template.

White Page (start from scratch) - Use this option if you are designing your own pages and not using a  template.

Page Title - You can enter the title for the page here or wait until you save the page.

Add Page to Navigation - This option is checked by default and will only work if you are using the java-script navigation from the template.

TOOLBARS ~ Toolbar 1 ~ File

Open - Click to open pages and files within your site

Open Recent - Shows pages you have recently opened.  Clicking on one will make that the active page.

Close - Closes the page you are working on - A box will open asking if you wish to save changes. This will only open if you have not saved changes.

Close All - Closes all pages you currently have open in Site Builder. The same message will appear as it does for Close. The message will appear for each page that has unsaved changes.

Save  - Saves current changes you have made to the page.

Save As - Allows you to save the current page under another name.  It does not eliminate the original page. It copies the content.

Save All - Saves changes to all the pages you have open in SiteBuilder.

Revert to Saved - If you make a lot of changes to the page and then decide you don't like it, click this option and the page will revert back to your last save.

Customize Site Error 404 Page 

Here you can customize the Error page to match your site.

The Error page comes up if  a page you have deleted or re-named is still in the Search Engine's cache.

Publish -Publishes your page to the Web.  Choosing Publish All will publish all pages you have open in SiteBuilder.

Switch Sites - If you have more than one site you can use this option to close out of the site you are currently working on and go to another.

Keyboard Shortcuts

Following are keyboard shortcuts that can be used in Homestead SiteBuilder in the File Menu:

New  Page              

Open                        

Close                      

Save                        

Save As                   

Revert to Saved     

Import Image        

Ctrl+N 

Ctrl +O                       

Ctrl + W                      

Ctrl + S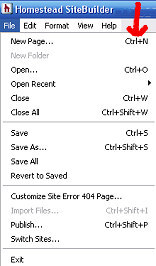 Available keyboard shortcuts are shown to the right of editing options. 

Copyright 2006 - Homestead Connection - All Rights Reserved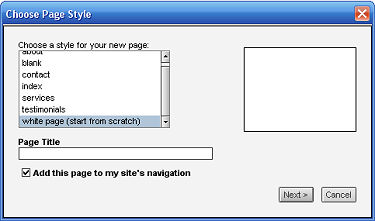 Use the internal search feature to the right or the
site map
for easy access to information.
Toolbar 2 ::

Toolbar 3 - 4 ::

Toolbar 5 ::

Toolbar 6 ::