TOOLBARS ~ Toolbar 5 ~ SiteBuilder Bar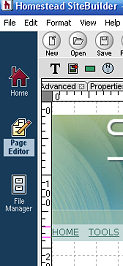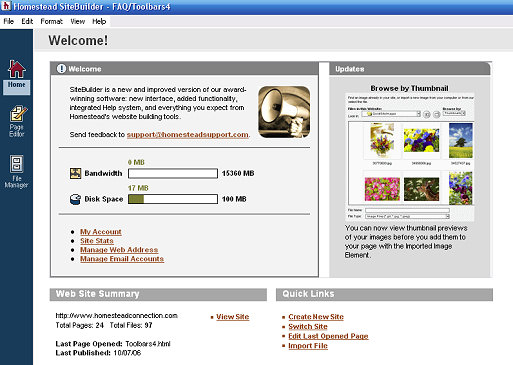 Clicking on the 'HOME' button opens a page of Quick Links to your account and site information, stats, and more.

The SiteBuilder Bar can be hidden by clicking on the 'Hide Bar' button at the bottom of the SiteBuilder Bar column. To re-open it click 'View' ~ 'SiteBuilder Bar'  ~ 'Show SiteBuilder Bar'.

Clicking on  'PAGE EDITOR'  returns you to the currently selected page for editing.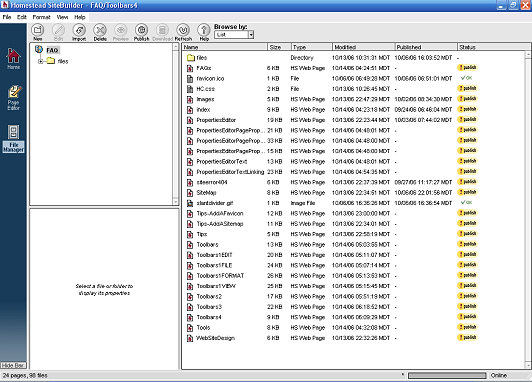 The 'FILE MANAGER' contains all the pages and files within your site.  You can browse by thumbnail image or list.  The graphic below shows the 'FILE MANAGER' in list view.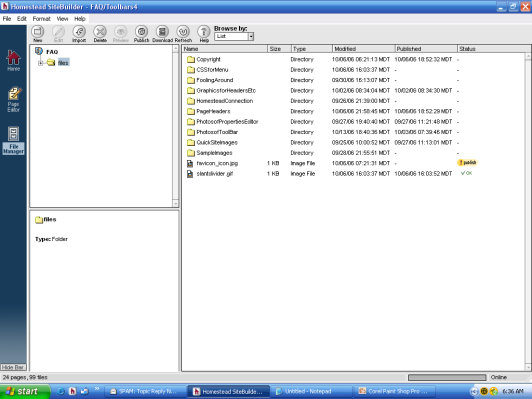 Click on Files to view all the files in the site. Click on the + sign next to the folder to open files in this column.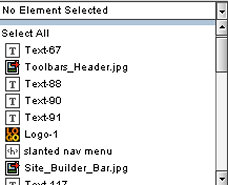 Copyright 2006 - Homestead Connection - All Rights Reserved


Use the internal search feature to the right or the
site map
for easy access to information.





Toolbar 2 ::

Toolbar 3 - 4 ::

Toolbar 5 ::

Toolbar 6 ::