Click on Edit and you get the drop down as shown below:

TOOLBARS ~ Toolbar 1 ~ Edit

Undo text edit  - Removes your last text edit.  Allows you to revert back multiple steps

Redo - Re-applies the text edit. Allows multiple steps.

Cut - Cut out (remove) a piece of text or graphic to paste in another section of the current page.

Copy - Copies a piece of text or graphic that you can then paste onto another page. It will paste into the exact position it held on the original page.

Paste - Pastes the content you cut or copied.

Clone - Makes a copy of the selected text or graphic which you then move to the desired position.

Check Spelling - Checks the entire page for spelling errors if nothing is selected.  Selecting a text box will yield a Spell Check for that box only.

Preferences - Proxy info that allows you to connect through a Proxy server such as AOL or CompuServe.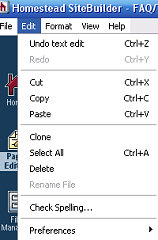 Keyboard Shortcuts

Available keyboard shortcuts are shown to the right of editing options in the toolbar. 

Copyright 2006 - Homestead Connection - All Rights Reserved




Use the internal search feature to the right or the
site map
for easy access to information.
Toolbar 2 ::

Toolbar 3 - 4 ::

Toolbar 5 ::

Toolbar 6 ::