TOOLBARS ~ Toolbar 1 ~ View

Home - Presents your site information and Quick Links to your account in Homestead, site stats, etc.

Page Editor - Presents the Page Editor view. Also available by clicking Edit button in the tool bar at the lower left of the screen.

File Manager - Presents the File Manager view.

Preview Mode - A preview of how your published page will appear. Also available by clicking Preview button in the tool bar at the lower left of the screen.

Edit Mode - Presents your working page. Also available in the tool bar at the lower left of the screen.

Site Builder Bar - You can choose to display the Site Builder Bar as icons or tabs or hide it from view.

Properties Editor - Dock, Undock, or Hide the Properties Editor.  If you chose to hide it, double clicking on the page will bring it back up.

Show/Hide Personal Website  Elements

Used to open or close the Personal Website Elements on the Toolbar. These elements are best suited to personal websites rather than business sites.

Click on View and you get the drop down as shown below:

Hide/Show Rulers- In Show mode rulers appear on the top and left side of the Edit Page. Useful for aligning elements, etc.

Hide/Show Grid - In Show mode grid lines  will appear on the page in Edit Mode. Useful for placing text and graphics uniformly.

Snap to Grid - In active mode the Snap to Grid feature pulls an element into the nearest intersection of grid lines.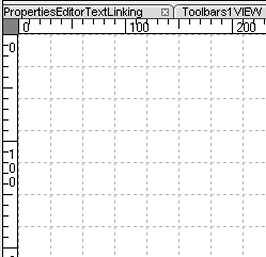 Open Pages - The bottom portion of the View Menu will show all pages currently open with a a beside the active page.

Copyright 2006 - Homestead Connection - All Rights Reserved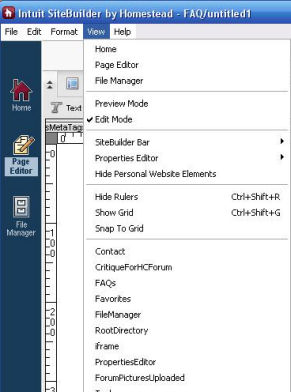 Use the internal search feature to the right or the
site map
for easy access to information.





Toolbar 2 ::

Toolbar 3 - 4 ::

Toolbar 5 ::

Toolbar 6 ::